Lessons 181-240
Inspired by A Course in Miracles workbook
– Glimpses of my study journal –
Here you can find a collection of doodles
inspired by the lessons 181-240
from A Course in Miracles Workbook.
You can comment at the bottom of the page if you wish!
The seventh Mira(cle)Doodle Story is out!
WALK THE PATH OF LOVE
– A Little Guide on How to Get Back on the Path of Love & How to Stay on It –
But this ain't walking – This is Mira being stuck! Once again she has ended up in a place where she feels it's hard to move forward and she doesn't even know how that would be done…
You are NEVER out of options, so I drew a story of the steps she needed to take to return back to the path of love from this muddy and stuck place where she can't even see her toes.
This story joins together insights from A Course in Miracles Workbook lessons 155, 189, 200 and 205.
:: This booklet is available for $5 tiers and above. ::
Lesson 238
A Course in Miracles Workbook
You've got the permission to be YOU! You are enough just the way you are. You are worthy. And you are loved.
This is where you really see yourself as love.
I hear a little child's surprised voice repeating "Oh boy, oh boy, oh boy!" with pure enthusiasm and excitement in my mind. It's so wonderful to be me!
Oh boy!
Lesson 234
A Course in Miracles Workbook
If we actually never left the Source, but just dream this dream (a dance with our ego in our perception of the world)… Doesn't then this doodlee sum it up nicely?
I can just imagine how it must feel for the curious infinite heart to observe the dance. Sometimes puzzled, but most of the time probably just curious. She won't tell you to stop.
That you'll figure out yourself in the dream, then pause and start to look around for Her. And She's right there for you!
Lesson 233
A Course in Miracles Workbook
I hand my thoughts and my To Do list to Love today. Sweet!
And then I just follow, She'll guide me today!
(And the theme song from the Gilmore Girls TV-series keeps playing in my mind…)
Lesson 229
A Course in Miracles Workbook
Part II lessons have been so much about Love that I feel like for some days Mira's body stepped aside and in my illstrations the heart has been in the spotlight more.
Here's a doodle from 2014, where Love realizes that oh wow, this day is dedicated to Her. Miracles and more and more of the gifts Love brings come your way!
Lesson 226
A Course in Miracles Workbook
I heard the saying "What you appreciate appreciates" first from Kate Northrup, and I feel this is that same thing.
Concentrate on what you want.
That'll do it.
Lesson 224
A Course in Miracles Workbook
"Reveal what You'd have me see instead."
(ACIMW.PII.224.2:4)
And I looked, and smiled: It has been there all this time.
Peace
Part II – 1. Forgiveness
A Course in Miracles Workbook
"What is forgiveness?
It merely looks, and waits, and judges not. 
Forgiveness welcomes truth exactly as it is."
(ACIMW.PartII.1.4:3&5)
Lesson 220 (Review L200)
A Course in Miracles Workbook
"The way of peace" is the path of Love, which so often gets lost in the everyday hustle of life.
With a gentle whisper and a tender touch, you can feel how Love guides you back home, back to the way of peace.
Lesson 210 (Review L190)
A Course in Miracles Workbook
PAIN IS MY OWN IDEA! No wonder I am so attached to suffering, my ego finally managed to make something of his own! Yay!
But it doesn't bring me happiness, this thought… Is it really so that it's useless to try to do it all yourself?
I'll choose joy instead.
Lesson 206 (Review L186)
A Course in Miracles Workbook
I intended to not use the word "God" in here, but oh well, my definition of it has changed and after replacing it with "Love" it's now simply just three letters that define the force of life to me, so I use it. You can replace it with "Higher self", "The Universe", "Love", or anything you choose.
Lesson 202 (Review L182)
A Course in Miracles Workbook
I sit still and surrender.
I feel into how READY I actually already am, to move on, to follow my heart, to return home.
Today. Now.
And so it is.
Review VI Intro
A Course in Miracles Workbook
Do I really, really want *this* thought?
Nooooo, I choose Love, and "permit no idle thought to go unchallenged."
Lesson 200
A Course in Miracles Workbook
Mira holds onto a magnifying glass. She needs it when she tries to analyze life and everything with her ego. Never quite feeling like she arrives at any satisfying answer though.
…But what if she had already arrived? What if she had already landed on that perfect peace that she seeks for? She can feel it in her heart – Now.
Unless of course she's after yet another detour hand in hand with her ego. He's already waiting there, ready to give it a go…
Lesson 197
A Course in Miracles Workbook
When you give, you give to yourself… So it all comes back to you. Give with love and it's all good!
Lesson 196
A Course in Miracles Workbook
Like Louise Hay said: "Stop terrorizing yourself with your thoughts!"
Haven't we all had enough of that already?
Lesson 195
A Course in Miracles Workbook
First put the oxygen mask on yourself…
…Then you can spread the word, share the light, save the world.
…And this is what the oxygen mask looks like, LOL!
Gratitude is the key, and it starts with where you are.
My "God Box"
Inspired by Hollie Holden
Lesson 194 invites you to surrender your worries to something bigger than your self. So I created "a God Box" where I can place my worries into, scribbled on little notes. With this I can practice letting go my need to control the outcomes. I painted a picture of the Universe on the lid and drew a little doodle to remind myself of what it's about. From Kate Northrup I learnt that I can write a To Do List for the Universe beside my own to do list, and that has come in handy too! With both of these exercises I can really let it flow – And let go, let go, let go!
Lesson 193
A Course in Miracles Workbook
Everything that is not Love is a call for Love. And it calls for you to forgive, so that you could see things differently.
There's a lot to thank your chaos for…
Lesson 190
A Course in Miracles Workbook
Pain is…
I know from experience that my most painful life experiences were the ones that "put me into sleep". It feels like pain awakens fear, and then you stay asleep, until you welcome joy back into your life.
This lesson has given a lot of food for thought.
Lesson 190
A Course in Miracles Workbook
There it is hovering over love…
And Mira grows distance one step at a time to the truth of who she really is, love, as she concentrates on the triumphant pain she feels.
Lesson 190 is one of the hardest ones to understand, pain is so real that it is hard to think of it as illusion…
Lesson 189
A Course in Miracles Workbook
Do you ever get caught on words? In 2014 I got such a huge laugh from the word "simply" during this lesson that I had to wipe my eyes and catch my breath again.
But moments like this really help me connect the dots and see how far away my ego things salvation lies. It's complicated for him, and 'simple' is just too much.
Lesson 185
A Course in Miracles Workbook
Mira giggles as she notices that the hell she had made wasn't real after all.
She's ready let go of the suffering.
Lesson 181
A Course in Miracles Workbook
You need not be concerned for what haunts you from the past – It is not there.
You do not need to fear for the future – It also is but imagined.
These doodles were the last ones I drew in my third notebook of my studies. I am present.
"All quotes are from A Course in Miracles, copyright ©1992, 1999, 2007 by the Foundation for Inner Peace, 448 Ignacio Blvd., #306, Novato, CA 94949, www.acim.org and info@acim.org, and are used with permission."
Join my circle at Patreon
to enjoy the newest Mira(cle)Doodles & Doodle Stories
that are not published anywhere else.
Latest ACIM News From the Blog…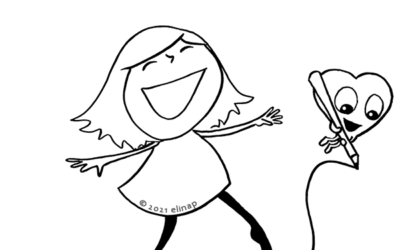 In this month we'll dive deeper into what CREATIVITY is over at Patreon. The 28th doodle story is now out explaining how creativity is viewed in A Course in Miracles…
read more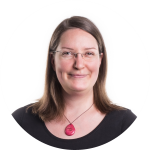 About elinap
Artist & Life Coach. Turning struggles into loving laughter with her illustrations. Creator of Mira(cle)Doodles.
Enjoy more doodles at Patreon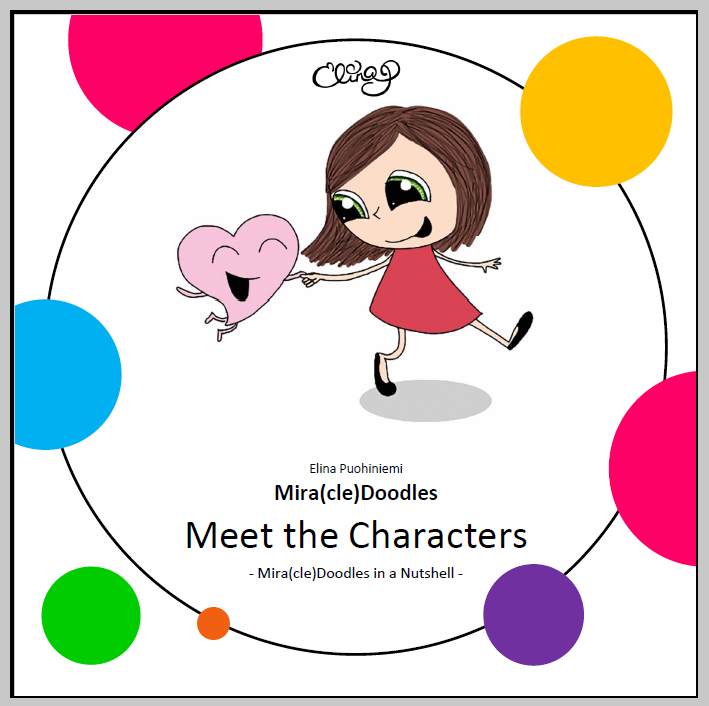 © 2010-2020 elinap – Elina Puohiniemi
Site Designed by elinap