Lessons 61-120
Inspired by A Course in Miracles workbook
– Glimpses of my study journal –
Here you can find a collection of doodles
inspired by the lessons 61-120
(with the reviews II and III included)
from A Course in Miracles Workbook.
You can comment at the bottom of the page if you wish!
Lesson 117 (Review L104)
A Course in Miracles Workbook
Do I need to seek what belongs to me in truth, isn't it there already?
Just need to quiet down, surrender and see it in the reflection. The world we see is our mirror. What does your mirror reflect back to you?
Close your eyes and look closer.
Lesson 115 (Review L99)
A Course in Miracles Workbook
And so will the real beauty of our world be revealed.
How hard it is to see it with unforgiving eyes.
These phrases in the doodle are quoted from a Hawaiian healing tradition called Ho'oponopono.
Lesson 114 (Review L98)
A Course in Miracles Workbook
I object! Haha! Of course…
This lesson was about accepting my part in the bigger picture, and the more I get to know my ego, the more clear it is that it will object first.
"Just accept!" has been the most profound advice I've ever got for How To deal with ACIM.
Lesson 112 (Review L94)
A Course in Miracles Workbook
In the ego's viewpoint we are born, then grow old and die – And that is Scary. I've added in that we are born as Love, but still it's quite scary to be under all these rules of the mortal world. 
But see the other line below… That's way more relaxing to look at! This is what ACIM suggests, we stay changeless, and we remain forever as we are.
Lesson 109
A Course in Miracles Workbook
Lesson 106
A Course in Miracles Workbook
"What does it mean to give and to receive?" we are told to ask today.
This is something I will be meditating on, but this doodle already tells a bit about how this, to me, sounds a bit like being a channel for Love to deliver miracles through me, through my smile and through my art. If I choose to receive first…
Lesson 104
A Course in Miracles Workbook
What the ego doesn't say is that there's a small print included:
"And spend your entire life trying to figure them out, holding them steady and maintaining them plus of course wondering what went wrong and what is missing."
Lesson 101
A Course in Miracles Workbook
My conversations with Death are sooo juicy, when they are inspired by the messages from ACIM. Today's lesson reminded me again of them with all the talk about the unreal (pain and suffering) not existing.
Happiness doesn't require sacrifices from us. It is simply what we are here for.
Inspired by Lesson 97
A Course in Miracles Workbook
There was a teeny tiny doodle drawn on the margins of my journal from 2014. I wanted to redraw it, because THIS is huge!
I have been digging in my shadow the past years, trying to learn to love it when all the while all I needed to do is to look up and bask in the light that is turning brighter and brighter. Yay!
Lesson 96
A Course in Miracles Workbook
The thoughts that really matter are found in the spaces in between all the other thoughts I think. They are there, but they can be like a flickering light, not easy to spot.
But I'll do my best and breathe in. I'll look from nooks and corners of my mind where I haven't looked before.
Inspired by Lesson 92
A Course in Miracles Workbook
I woke up from a nap with this image in my mind and more than that – I had felt my gaze pierce through all my worries all the way to the core of things – all the way to seeing that there's a friendly Universe behind it all.
Lesson 86 (Review L71)
A Course in Miracles Workbook
"…No more idle seeking!" Here I couldn't resist a little reference to Marie Kondo's decluttering method called Konmari. It is so spot on! When you choose what really sparks joy for you, you stop seeking for the next best thing to posses in hopes that it has all the answers you are looking for. You already have all you need. You got the answers inside. You are enough!
P.S. In the doodle, the thing Mira is weighing on sparks, but Mira notices that the glitters on it aren't about her joy. It's a profound process to get to know what your own joy is about! And so worth it!
Lessons 79 & 80
A Course in Miracles Workbook
If you want to dive deeper into how these lessons are joyfully perceived with Mira's help, come over to Patreon and receive doodlestories from the lessons once a month! The first story was just published about how to deal with our problems (these furry little creatures that haunt Mira in the picture).
A Little Overview…
A Course in Miracles Workbook
My life is in motion when I am determined to change the way I see things. Forgiveness makes it move forward and my inner glow is what lights up the path, which is one of Love's, a path of creation.
Happiness is the name of the car.
So the flipside is… When I forget who I am, I might step out of the car and forget my happiness. Or it just stops, lights go out, and my function is no longer fueling the motion. Quite depressing… And I probably step out of the car at this point too and take a detour with my ego who seems to offer a solution elsewhere. 
Ahhh, I think I choose to be in the driver's seat of my life instead!
Lesson 77
A Course in Miracles Workbook
Stars represent miracles in these doodles and now we are getting to the core! "I am entitled to miracles" is today's lesson and for me this was a thought that brings me a feeling of relief.
You got it all inside you, there's no need to buy more fancy courses to learn to use magic, nor equipment to lure miracles to you. Just ask and they will come!
Lesson 74
A Course in Miracles Workbook
This definition of peace is awesome! It is not about retreating into withdrawal. Peace of mind really will bring "a deep sense of joy and increased alertness" along. Peace is bliss!
It is worth to go through all these lessons and take the conscious steps toward allowing peace to blossom.
Lesson 72
A Course in Miracles Workbook
How often do we give Love a chance to bring us answers?
We evidently are too busy as we look for peace with all the ways our ego suggests "We NEED that course yet!" "She has all the answers, let's watch her video!" But…
Just pause and be open to listening. Be amazed!
Lesson 71
A Course in Miracles Workbook
Our ego has build up a live-looking cardboard image of us feeling peace & calm, don't get tempted…
Now these lessons bring to light another kind of path to peace and the ego gets really worried. Keep choosing the other path, otherwise you'll be tangled in the same old mess that never worked out before and disappointed you every time.
Lesson 70
A Course in Miracles Workbook
Here I am suddenly thinking of Elisabeth Gilbert in her book Eat, Pray, Love learning to speak Italian and falling in love with the word "Attraversiamo" which means passing through together. Yep, just holding hands and going for a little stroll, thank you!
Clouds represent illusions and here more specifically salvation offered from outside of us. It can only be found inside.
Lesson 70 back in 2014

A Course in Miracles Workbook
In 2014 when Mira was just born and I didn't yet post my doodles online, this is how it looked like in my study journal. I drew the man in the clouds, offering love and salvation as a temptation for Mira to be distracted from what could be waiting for her behind the clouds if she chose to be in charge and look for the answers inside.
P.S. I always draw my daily doodles before reading my old notes and love how similar it turned out to be!
Lesson 67
A Course in Miracles Workbook
Getting to know your ego is so important, unless you have the ability to just go past it and connect with love right away. But the ego is clever, if only it would show himself like this in the reality, it would be easy to shove aside…
But here we go, shining light on its behaviour and doing our best to not to fall into his traps. Yaay!
Lesson 66
A Course in Miracles Workbook
This is such a relieving idea!
There is this world full of struggle, scarcity and fear. And still there is hope.
There's always hope.
Beyond the battle, behind the curtain, sits the truth, ready to be heard.
Lesson 61
A Course in Miracles Workbook
Environmental issues and global warming have always been one of my concerns and what I focus on when making decicions about my life and how I consume. Lately I've been thinking how much it would really help if we just accepted our true nature and embraced our ability help. Why waste a minute feeling sorry for ourselves when we have a beautiful planet to save?
"All quotes are from A Course in Miracles, copyright ©1992, 1999, 2007 by the Foundation for Inner Peace, 448 Ignacio Blvd., #306, Novato, CA 94949, www.acim.org and info@acim.org, and are used with permission."
Join my circle at Patreon
to enjoy the newest Mira(cle)Doodles & Doodle Stories
that are not published anywhere else.
Latest ACIM News From the Blog…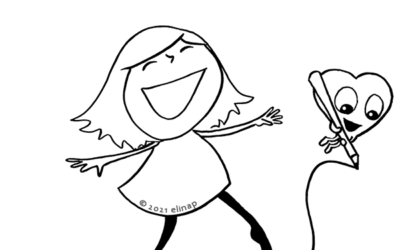 In this month we'll dive deeper into what CREATIVITY is over at Patreon. The 28th doodle story is now out explaining how creativity is viewed in A Course in Miracles…
read more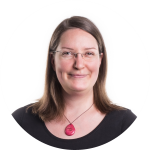 About elinap
Artist & Life Coach. Turning struggles into loving laughter with her illustrations. Creator of Mira(cle)Doodles.
Enjoy more doodles at Patreon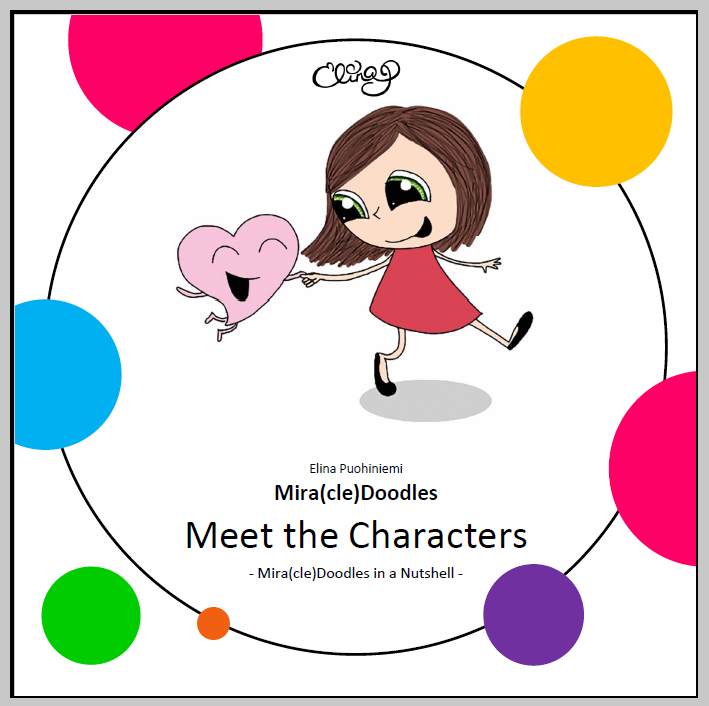 © 2010-2020 elinap – Elina Puohiniemi
Site Designed by elinap