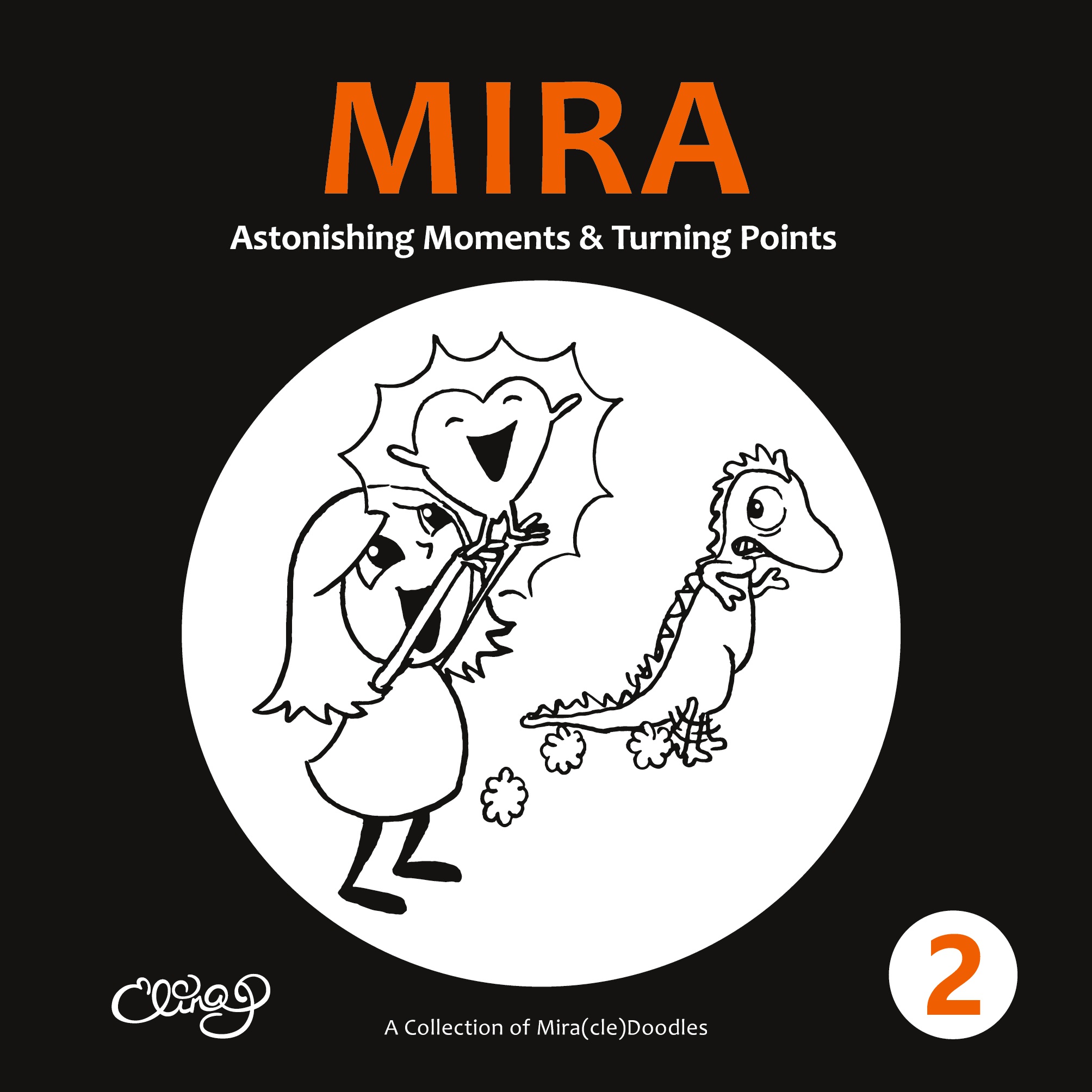 Astonishing Moments & Turning Points

A Collection of Mira(cle)Doodles
Volume

2
by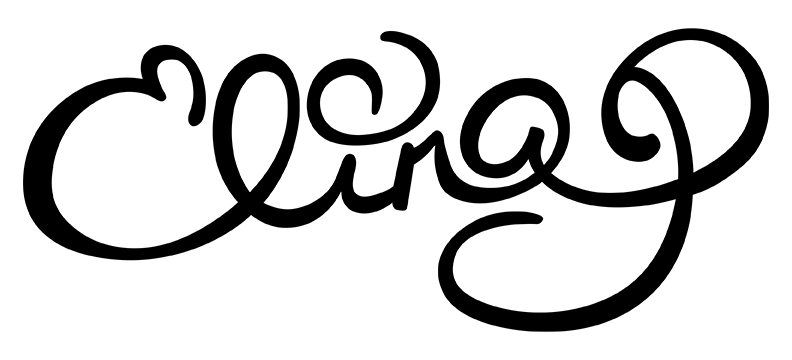 In the second collection of Mira(cle)doodles, Mira continues to uncover the ego's clever deceptions doodle by doodle.
Mira 2

shows how these astonishing moments are turning points that invite you to return to Love and into living joyfully in the present.
Spending time with Mira and her friends helps you uncover the ways that the ego disrupts your peace of mind in a delightful way, adding more joy, compassion, courage and hope into our everyday lives.
Watching Mira gain confidence to keep following her heart will inspire you to do the same—leading with Love is contagious!
Available as both hardcover & paperback
The doodles in this whimsical collection were drawn daily in October 2020, 2021 and 2022, inspired by the one-word prompts of Jake Parker's Inktober challenge. They are presented in the same order as the original prompts and include five short stories in between.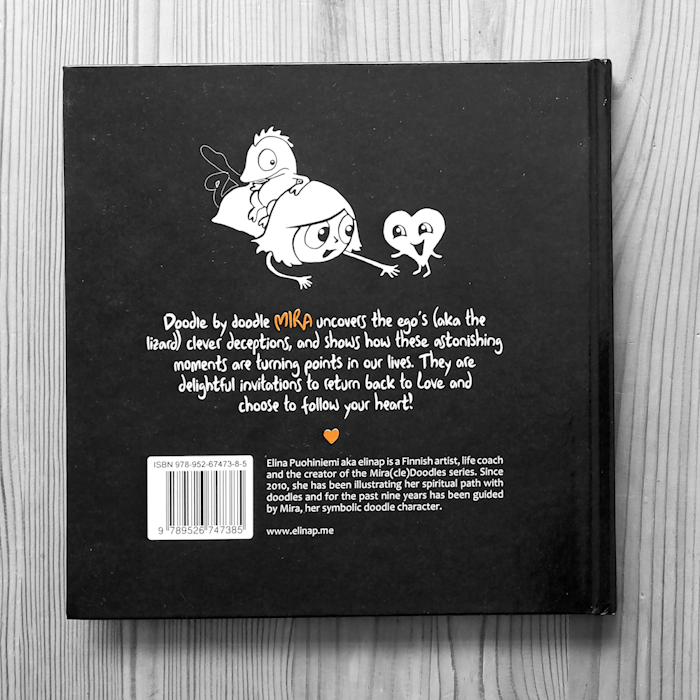 Five Short Stories Included:
Mira(cle) Doodles short stories are 2-4 pages long
"A SUIT OR A VESSEL?"
A story on how differently the ego and Love view our body

"FACING THE SCARY STUFF IN OUR LIVES"
The treasure on the other side of fear

"ASK FOR HELP"
Another solution for getting unstuck

"WHEN THE EGO TAKES THE WHEEL"
Mira doesn't notice a thing, but we do!

"A FAIRYTALE ENDING"
The one decision that helps us live happily ever after

"MIRA 2 is a beautiful and inspiring collection of illustrations that explores the themes of ego and love through a spiritual lens. I appreciate how the doodles have helped me to connect with my own inner wisdom. The messages in each doodle are clear and concise, making it easy to understand and apply in our daily lives.
The concepts of the ego taking up too much space and drowning out the whispers of the heart is a powerful one that can resonate with many people. The reminder to listen to our gentle inner voice and not get caught up in the bells and whistles of the ego is timely and essential in today's society.
I particularly resonate with the idea of letting go of the ego's hold and trusting in love to lead me forward is a beautiful and empowering one. Your doodle series also emphasizes the importance of gratitude, celebration and kindness, which are all valuable reminders in our daily lives.
Overall, MIRA 2 is a joy to experience and serves as a source of inspiration and reflection. It can help readers to connect with their inner selves, find peace and expand their understanding of life and love.
MIRA 2 encourages readers to let go of the ego and trust in their inner wisdom, which can lead to a more fulfilling and joyful life."
With MIRA's help you'll see how you are never alone with your struggles.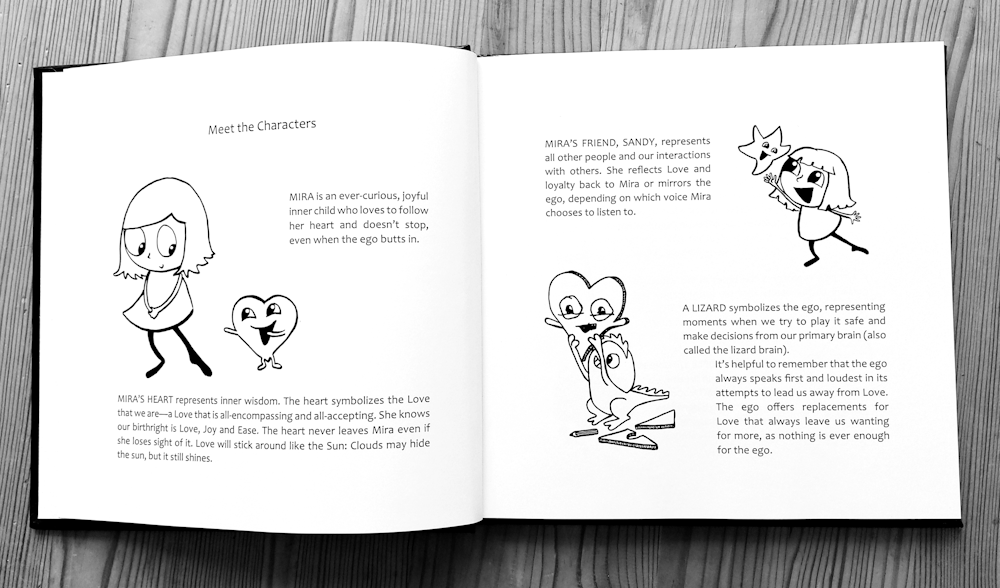 In MIRA 2 You get to enjoy…

120 pages of doodles and stories, and will meet: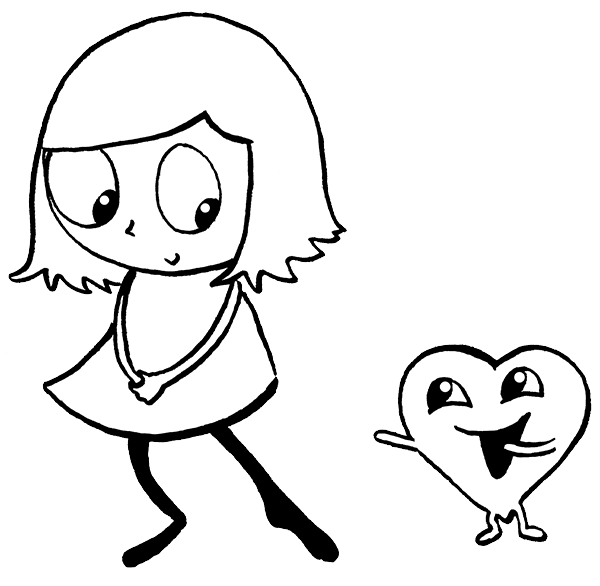 Mira & Her heart
MIRA is an ever-curious, joyful inner child who loves to follow her heart and what's there not to follow because…
MIRA'S HEART represents inner guidance, intuition, inner wisdom, soul or true self — choose whatever word you want to use. She symbolizes the Love that we are.
Other characters in the book include a lizard as the ego, Mira's friend Sandy, stars as miracles and many more – All drawn to help us move forward, towards more light & Love.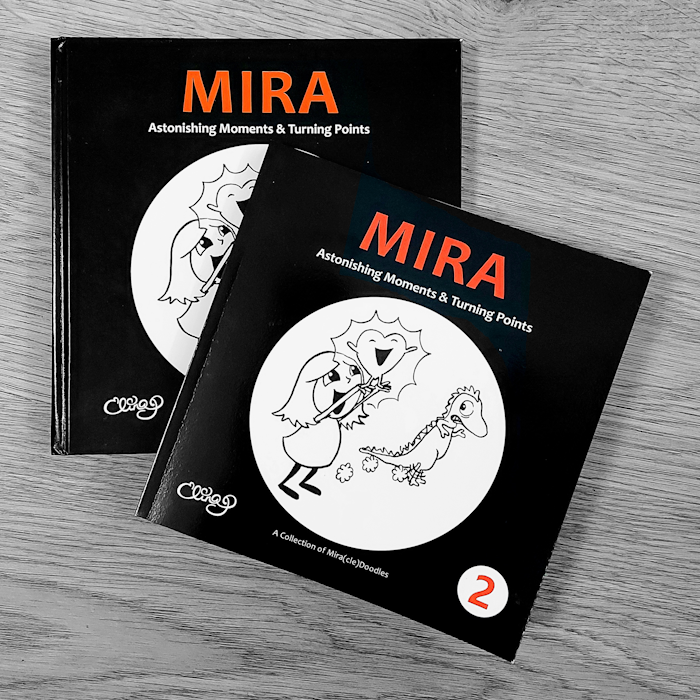 Available as both hardcover and paperback
"Keep Following Your Heart!"
That's Mira's message in a nutshell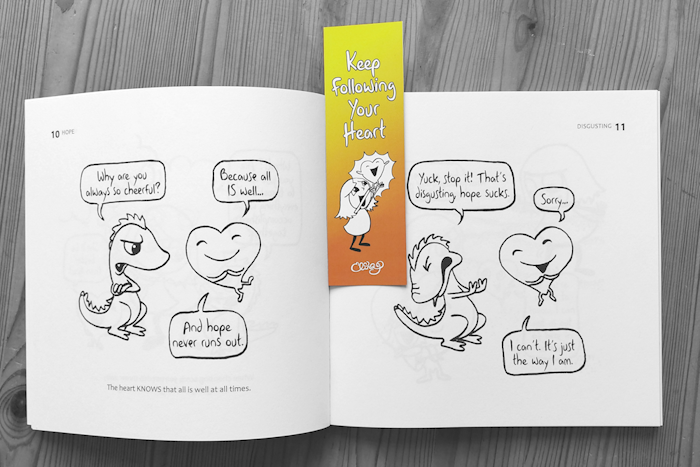 When you buy MIRA 2 from elinap's online shop, you'll also get this delightful bookmark.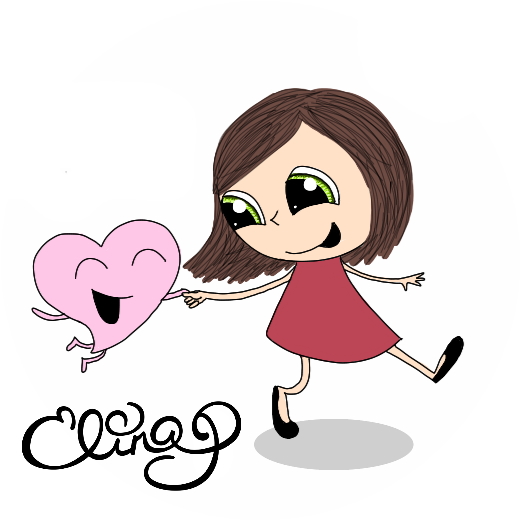 MIRA(CLE)DOODLES are illustrations from a spiritual path, born from a need to question the ego's ways and to follow the heart no matter what comes your way.
Inspired by inner musings about life, they simplify and explain life's struggles and spiritual challenges with a loving twist—they show how it's possible to choose Love and be at peace in any moment.
— Book Bonuses —

when you buy MIRA 2 from elinap shop
Your book will be signed by elinap, and you also get: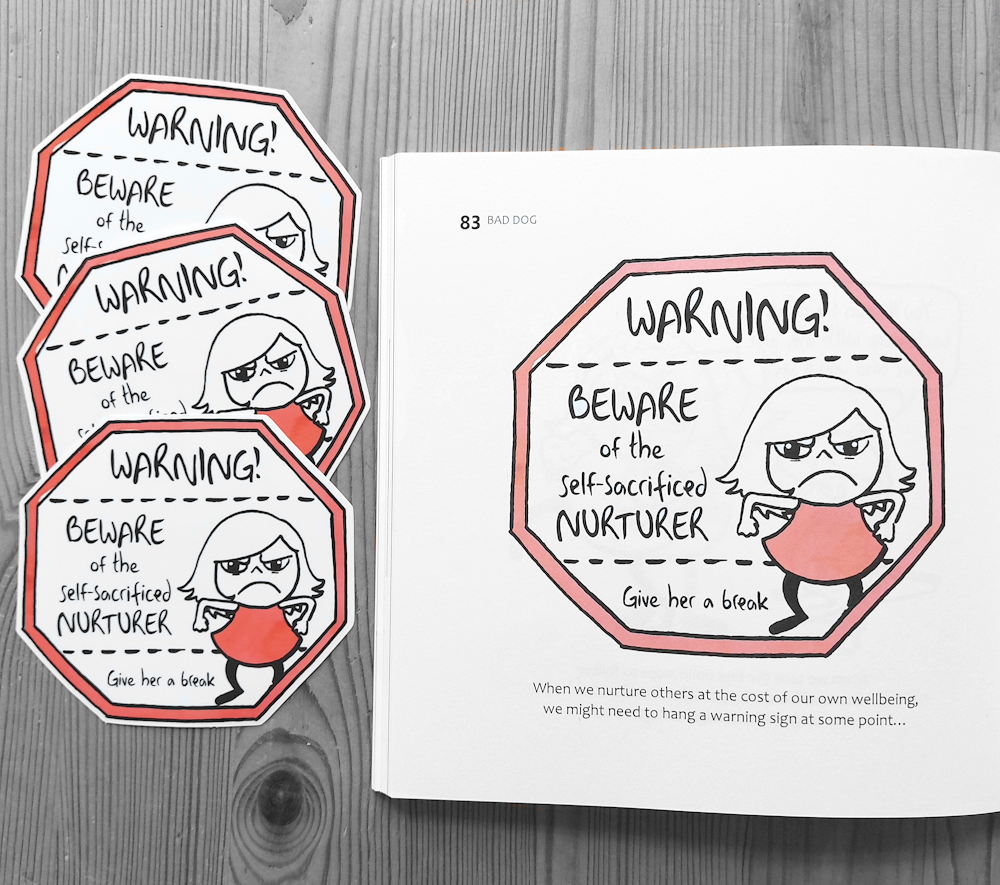 Fast action bonus
– A Sticker –
Limited edition – Only a few available!

Sometimes open-heartedness backfires…
That's when you haven't put yourself first for a while, but started tending to the needs and dreams of others.
This doodle which you can find from MIRA 2 works as a visual reminder to return you back to self-Love before it's too late (and you really need to hang this as warning sign)…
(2,50 € Value)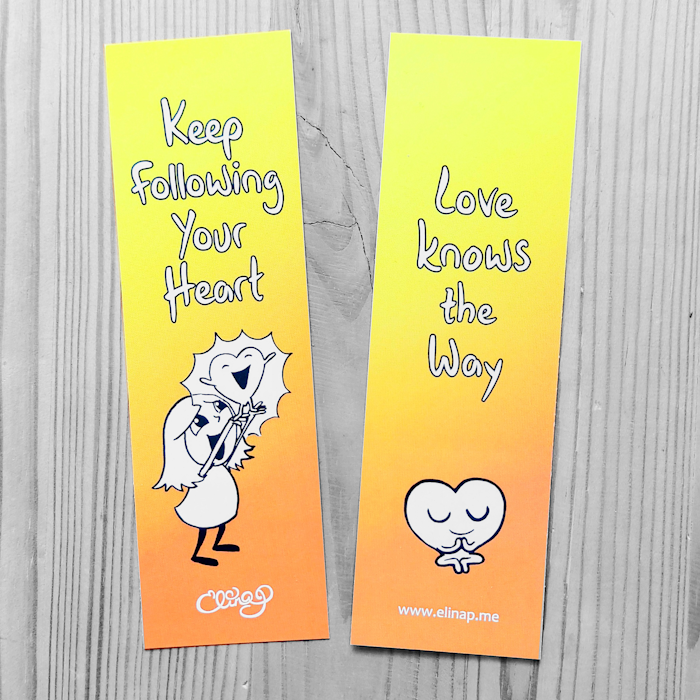 Keep Following Your Heart
– A Bookmark –
Limited edition
This loving reminder to keep following your heart will be slipped in the package when you buy MIRA 2 – Astonishing Moments & Turning Points from elinap shop.
Turn the bookmark around and be still with this truth for a moment.
Let Love lead you towards more happiness, joy and bliss.
(2,50 € Value)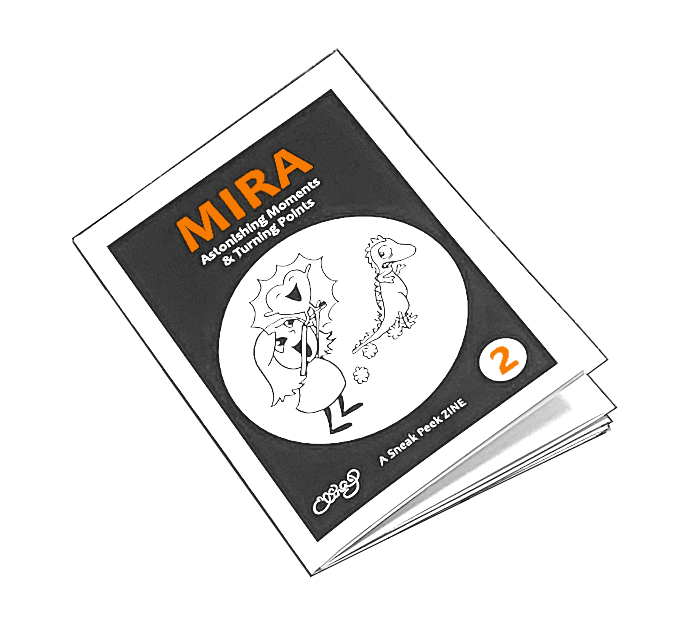 Bonus PDF – A ZINE
A Sneak Peek ZINE
Download, print, and fold a tiny (maga)zine to take a look at what's in store for you in MIRA 2 – Astonishing Moments & Turning Points while you wait for your copy to arrive. Available immediately after purchase.
(3,50 € Value)
Download the Bonus-PDFs after purchase from your confirmation email. No newsletter sign-up necessary.
Book bonuses are available until the end of the year (2023) unless otherwise noted.
Elina Puohiniemi aka elinap
An artist and life coach from Finland.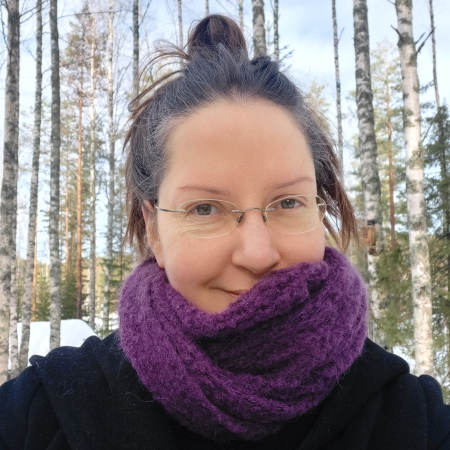 Elina Puohiniemi, aka elinap, is an artist, life coach and the creator of the Mira(cle)Doodles series. She has been illustrating her spiritual path with doodles since 2010. For the past nine years, she has explored life with Mira, her doodle character.
Elinap lives in Finland with her husband, their two teenage sons and a poodle.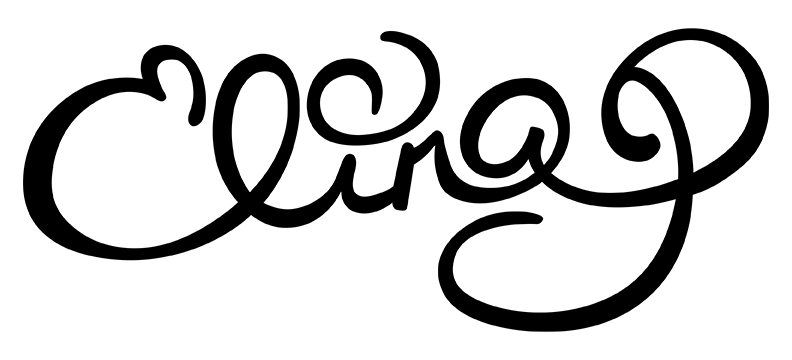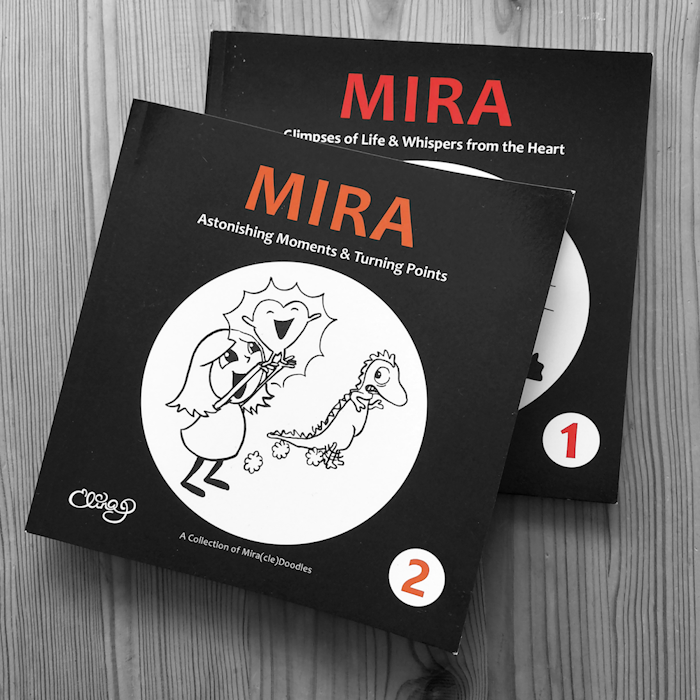 MIRA 2 is the second volume in the collections of Mira(cle)Doodles
Signed copies available at
© elinap – Elina Puohiniemi 2023