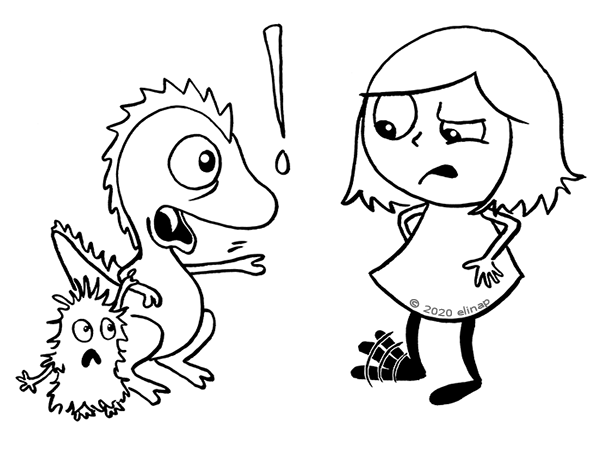 The 23rd Mira(cle)Doodle Story is out!
A Journey from
Fear to Love

Mira(cle)Doodle Stories weave together insights from everyday blunders in a joyful, uncomplicated way. Any obscure concept is turned into whimsy and fun by elinap!
The title of this story is the typical way to describe what may happen when you study A Course in Miracles, it teaches you to step into the light, away from pain and suffering, and to base your decisions on love rather than fear.
In this story Mira shows how she takes on this metaphorical journey and what steps there are on the way. It's not as straightforward of course as the story of her journey makes it seem, your ego puts up a fight. But the idea is to leave your ego's opinions aside, so that's why I left it out of the whole story (except from the beginning scene where he looks devastated by Mira's decision to leave him behind (see the picture above…))
Enjoy the story over at Patreon!
I will keep on posting doodle stories every month in Patreon in 2021 too, but will be making some tweaks on the offering that only make it better! Stay tuned!
The story is published at Patreon:
:: You can unlock this and all the previously posted booklets for $5/month. ::