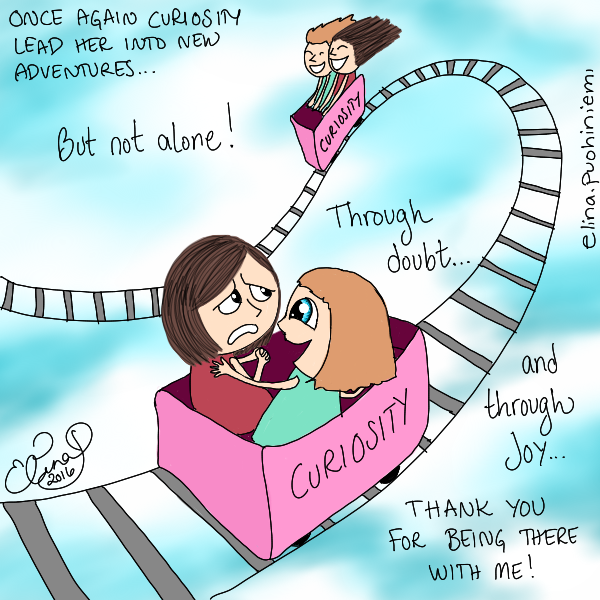 Oh WOW!
I just saw that my NEXT post at Patreon will be my TWO HUNDREDTH post there!
So I'm not only celebrating spending six-years with Mira (she was born in March 2014)…
I'm also celebrating my patrons this month!
This doodle was drawn when my Patreon journey began early in 2016. It was scary because I didn't know how it would go with all the nitty-gritty tax stuff and regulations, but there were no bumps on that road with it after all. <3
I also attracted enough patrons to keep on creating stories and doodles that haven't been published anywhere else. I consider them my best work with Mira so far.
My First Coloring Book
In 2016 once I had published my first book "Color Your Dreams True & Learn to Trust the Process" with the support of my patrons, I quit with Patreon for a couple of years…
Last year around this time I returned to it and have truly enjoyed creating my monthly doodles and stories over there. And I've gotten such a lovely feedback from my patrons that I'm overwhelmed – THANK YOU for being there and reading and enjoying my creations.
What's Happening  Now?
My plan this year is to keep posting monthly content with a doodle to start the month with, and a story to end the month with. And in between there I'll post a sneak peek on what I'm working with that month, it includes my own book projects as well as some other stuff that's going on in an artist's life.
And then my highest value patrons get all of that above plus a monthly tracker they can color to stay on track with their dreams (staying accountable and showing up for it) and I'm also sharing the steps from "Color Your Dreams True" -book all redrawn one by one each month, and that means more coloring pages!
If you are interested in enjoying
some Mira-vibes your way regularly…
I haven't yet decided WHAT I'll do to surprise my patrons with to celebrate this occassion of the 200th post, but I'll make sure it'll be awesome!
I'm truly grateful for your company in there, thank you, it's been a fun ride!