In this series of blog posts I'll dive deeper into the world of my doodles. In this post we'll take a closer look at doodle #7 in MIRA – Glimpses of Life & Whispers from the Heart…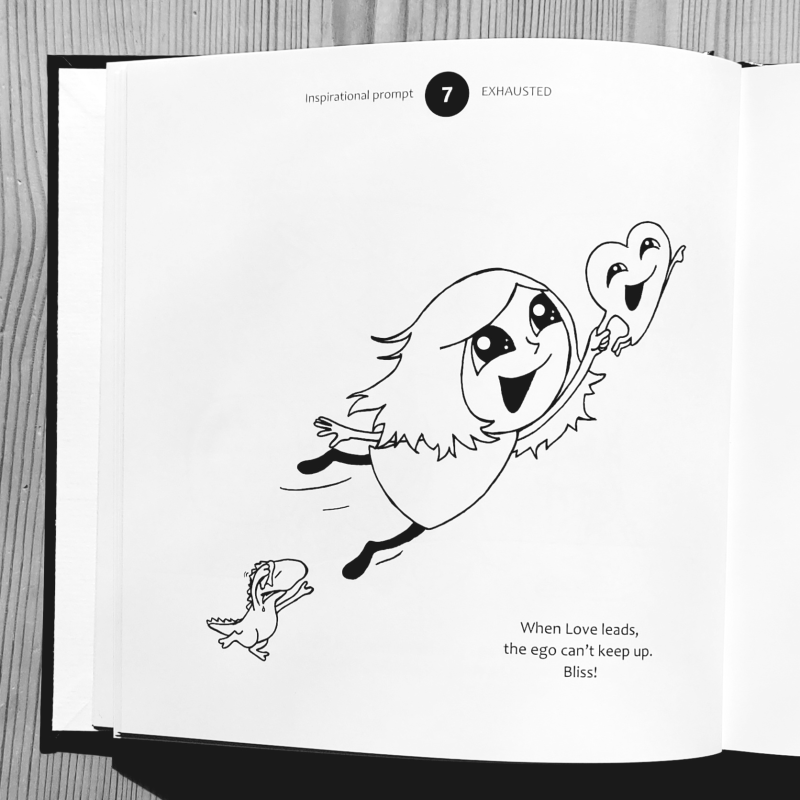 DOODLE NOTES
For doodle #7
—
An excerpt from the book:
INSPIRATIONAL PROMPT – EXHAUSTED
"When Love leads,
the ego can't keep up.
Bliss!"
—
elinap's musings on the doodle afterwards:
The ego can get exhausted from its own actions alone,
but when you start moving at the speed of Love,
it just can't keep up.
How do you exhaust the ego and
start moving at the speed of Love then?
It happens by starting to listen to your heart.
First, it's gentle nudges, then whispers.
Your heart seems to get louder the more you listen to her.
Soon it feels like she's shouting, you can't ignore her anymore.
Start taking steps one after another to keep following her calls.
That's when your life speeds up so much that
the ego can't keep up anymore.
The ego no longer belongs to your committee of advisors.
And that's how to exhaust the ego—By no longer
honoring or listening to its opinions.
No worries, this happens naturally when
your devotion to listen to your heart strengthens.
Your commitment clears the path and
helps you stay on it too!
What can you do today to follow your heart?
You can now pre-order
MIRA – Glimpses of Life & Whispers from the Heart
from elinap shop
The doodles in MIRA were drawn daily in October 2018 & 2019, inspired by the one-word prompts of Jake Parker's INKTOBER challenge.