In 2016 I created a coloring Workbook called "Color Your Dreams True & Learn to Trust the Process" which guides you through ten steps that help you connect to your inner wisdom which comes from this beautiful creative flow that coloring opens up inside of you.
Coloring helps your mind relax and a relaxed mind opens up a possibilty for your heart to shout out louder!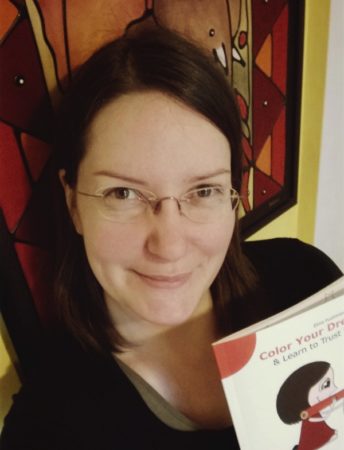 Then some years later, due to domain changes and such, the links in the book expired and I felt the need to withdraw it from the market… 
But I get inquiries of when will it be republished again, and have now decided to do so! 
But it takes time… 
I want to redraw it all and give it a good stirring before it's republished again.
This book and the process it introduces in those ten steps you can color through has grown inside me to be so much more than just a coloring book, so I came up with an idea of offering the redrawn coloring exercises as monthly offerings for my patrons ($10/month).
Coloring through the steps together is so much more powerful!
You can then ask me questions too, I'm there for you if you get stuck.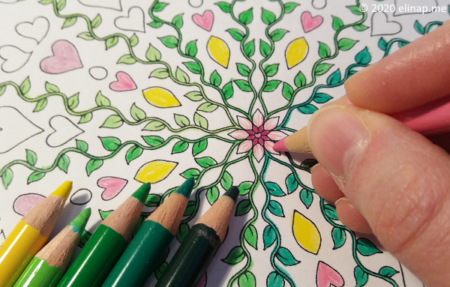 Here's a little sneak peek on what it is about.
The coloring exercise always includes questions that help you dive deeper and I also share doodles that explain the concept and celebrate following your heart.
What I'm the most excited about this is that I also developed a tracker that you can color a little bit every day and more on a weekly basis to stay connected with your dream and to learn to trust the process, and the natural flow of creating the life of your dreams. It follows the moon cycle which is the most inspiring four week cycle that I have ran into to look for advice from.
I will post a new tracker for you every month and develop it as it is evolving as we go. 
…And what comes to the republishing date, that could possibly be in early 2021. I haven't yet made up my mind whether all of the new deeper questions and the tracker will be added to the book, because it is quite great as it already is with what is written inside it, but maybe all of this will be offered alongside it as an online course!
I am inspired!
You can join the journey at any time of the year and get access to all the steps that are posted in Patreon on a monthly basis!
But the sooner the better of course
It's time
to make those beautiful dreams of yours
to come true!
Join the $10/mo tier to gain access to
Step One and
the Dolor Your Dreams True – Tracker: