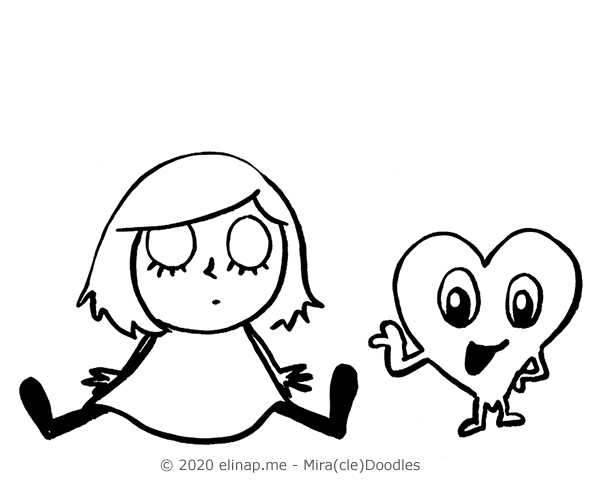 The 14th Mira(cle)Doodle Story is out!
What Is the Body For?

Mira(cle)Doodle Stories weave together insights from A Course in Miracles in a joyful, uncomplicated way. The obscure concepts of the course are turned into whimsy and fun by elinap!
When it comes to spiritual studies, diving deeper into what body means has been something I've been wanting to do for a long time. So today I played with the idea and checked out what A Course in Miracles says about the body and doodled this little story for you.
The main character now is a heart, Mira's heart. She represents the inner knowing, your true self or higher consciousness. So this is a bit of a mind twist, to view the whole thing from her point of view, but let's be curious and see what she has to say.
I included some old Mira(cle)Doodles again at the end of the story, as well as my practice on calling my soul back into my body in the morning.
This story came timely for me during this pandemia, because our bodies are feeling threatened, and what then is better than to learn how to love it more and even more deeply!?
The story is published at Patreon:
:: You can unlock this and all the previously posted booklets for $5/month. ::