I wanted to be prepared in case I get influenza or corona this spring. So I looked back and learnt from the past…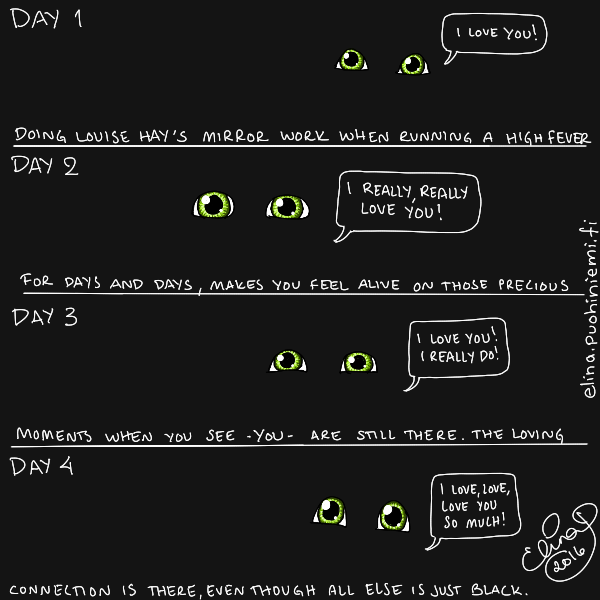 This doodle was drawn when I was suffering a severe influenza with such a headache that I could barely tolerate it. It didn't go away with painkillers either. I also ran a high fever. These symptoms combined resulted in total bedrest. I couldn't enjoy Netflix or anything, so sick I was. I just laid there and whimpered quietly.
All felt dark. A total darkness surrounded me for a week.
During those days of surrendering into healing, the only thing I could do, was to say to myself "I love you!" as often as I remembered (which wasn't easy, nor often). Every time I walked by a mirror I paused, looked myself into those beautiful bloodshot eyes and said it to myself.
I saw my best friend there, and whispered:
"I love you!"
In this little moment I felt connected to love again – I was back.
Then I hurried back bed again.
It isn't easy to do self-care when you are in the dark, but it's possible.
So that's why I make this little note to myself and want to share it with you, in case we got really sick.
Loving yourself through it all makes a difference.
This practice is inspired by Louise Hay's mirror work (link to an article on her website). Simply put, it means looking yourself in the eyes and telling yourself how loveable you are.
Because you are – Always!