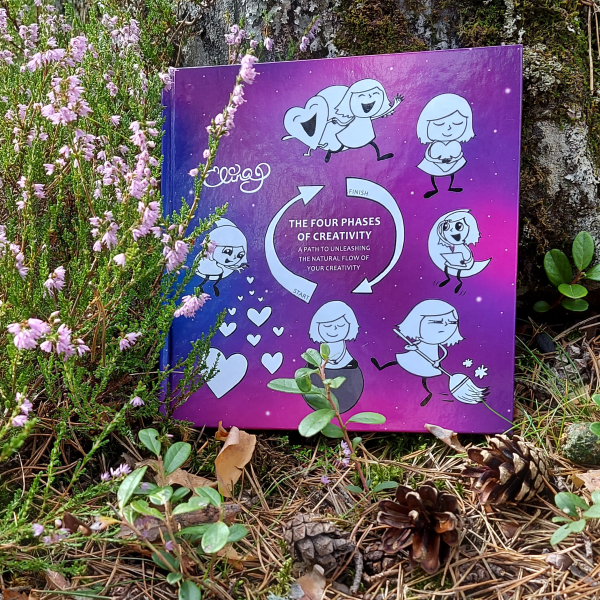 Last night I was out walking with a friend. All the gorgeous fall colors slowly falling off the trees around us, the ground covered in yellow, orange and red.
I handed her my book and realized how I haven't truly talked about it yet IRL.
She advised me that the best way to get it out there would be to go out there with it.
I laughed, yeah right, me… out There…
But I saw what she meant when I saw her holding the book in her hands and going through the pages thoughtfully. I saw her smile and I saw her pause to take it in.
Somehow she paused at the exactly right troubleshooting pieces too: "How is this so hard?" Mira asks. The answer is to concentrate on gratitude and that's when the sun starts to shine from behind the clouds.
This little book represents simple ideas in such a loving and concise way that it goes right to your heart. <3
I'm already preparing a gratitude list on what I'm grateful for this book and this experience.
…Someone might advise to rather concentrate on taking it out there as there's only three days until the cart closes and then the book is sold out (Unless I find money somewhere so that I can print a couple of extra copies to sell later on…)
But truly I am grateful that even though I don't have a huge team, nor a huge audience, nor a lot of cash – I could still make my dream come true with this! It just takes a little bit more time like this.
My dream is to see this book reach the hearts of those who cherish it with a smile on their face and let Mira's beautiful & sweet vibes help them find this same flow that I've had going on with this book and my art.
If you'd like to hold this book in your hands…
The Four Phases of Creativity
is available for only a short while more.