Here you'll find some notes I wrote when doodling through #Inktober2021 in October 2021 inspired by Jake Parker's #Inktober2021 daily prompts.
#Inktober2021 • Day 14
Tick
When was the last time when you stopped hearing the ticking for a while and was fully present in the moment?
#Inktober2021 • Day 13
Roof
When shouting from the rooftops, think twice… Is it your ego telling you what to shout? Or holding you back from shouting at all…
#Inktober2021 • Day 12
Stuck
You get stuck when you try to fit yourself into something that isn't you. The ego-shaped door would need to be huge for you to go through. Maybe that's why the ego plays such a huge part in our life when we choose it.
#Inktober2021 • Day 11
Sour
Plergh… When something has gone sour it is the thought about it that has done so. Letting go here can also mean that you refresh and shake up that old thought. How can you see it differently?
#Inktober2021 • Day 10
Pick
When you have crashed and can't remember Love, let them pick you up who have their hearts open and reach out to help. We are in this together.
#Inktober2021 • Day 9
Pressure
The ego sometimes puts so much pressure on you that it feels like you are carrying the whole world on your shoulders. Is it really necessary to try to fake that you can carry it alone? Is it necessary to keep carrying it like this?
#Inktober2021 • Day 8
Watch
Mira's ready to take a leap of faith, but she's holding back… Her ego is afraid to fall but the heart knows that a leap is but a decision to not to listen to the ego. So, Mira stop the conversation and just go for it!
#Inktober2021 • Day 7
Fan
No matter how powerful engine your fan has, it won't blow away the thoughts that cloud your days when you keep on clinging onto them.
#Inktober2021 • Day 6
Spirit
The key to happiness is realizing there is no wall built between you and Love.
#Inktober2021 • Day 5
Raven
The raven looked at me with piercing eyes. Its gaze went right through me. There was nothing left to say.
Years ago I wrote a story about a raven and revisited it today for this prompt. In the story there's a scene where a huge raven looks over the tree tops at the main character. It was fall, like it is now. This is my first attempt to illustrate the story.
#Inktober2021 • Day 4
Knot
When it feels like your life is in a knot, listen to your heart and she'll help you untie it.
#Inktober2021 • Day 3
Vessel
For Love the body becomes a vessel for spreading more Love into the world with. Hear her out!
#Inktober2021 • Day 2
Suit
The body is like a suit with which the ego tries to cover the truth with.
#Inktober2021 • Day 1
Crystal
It's all crystal clear now!
This can't go on, I've gotta take action and take better care of myself. There's nothing more for me down here. And so she started climbing.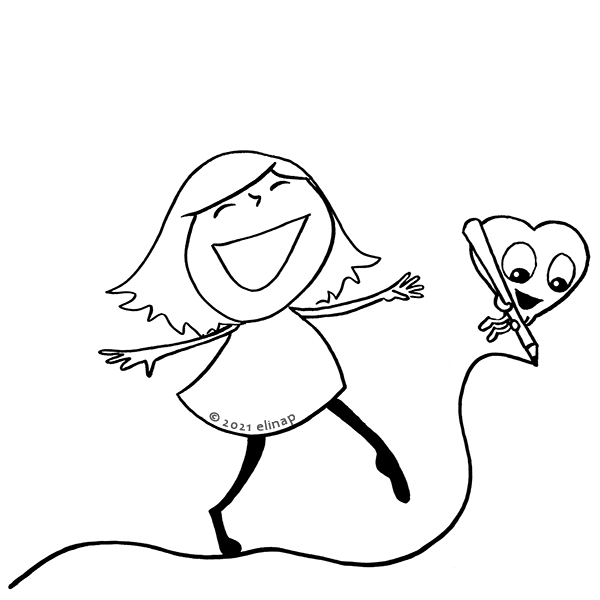 Previous Inktober challenges
Doodled through by elinap
(Links to Pinterest)
I'd love to hear from you
in the comments!
Did these doodles give you new ideas,
insights or a-ha moments?