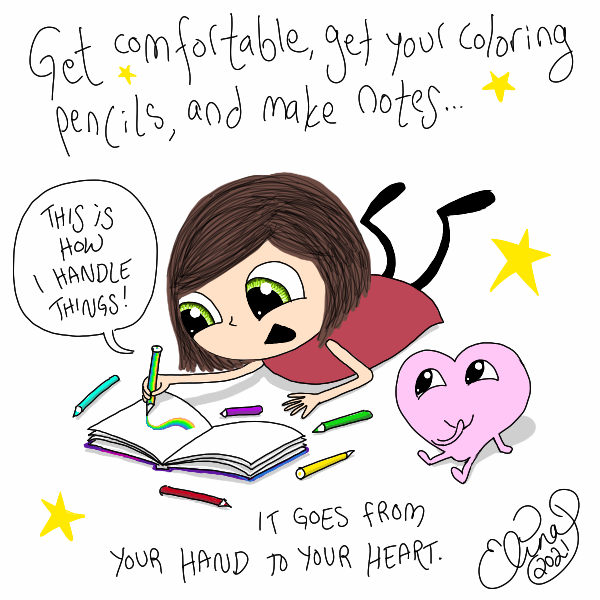 If you are a tactile person or just love to lay down comfortably, take out pens and highlighters to color, journal and make little doodle notes on the sides of the pages of your favorite books, here are some tips for you to get the most out of The Four Phases of Creativity book.
NOTE These tips apply to hardcover editions of The Four Phases of Creativity – If you have purchased a paperback, please test out your pens and markers on the last page of your book to see if they are good to go!

Colors
When I want to grasp a new idea and take it to my heart, I use colors – four different colors of highlighters – with an intention to catch the most important parts with PINK, something not to do with GREEN (the color of the ego lizard) and YELLOW and ORANGE for something in between to have the pages bathe in colors but the messages still pop out from the page.
Symbols
Stars for messages that feel miraculously right.
Exclamation marks when something is really important.
Hearts for loving messages.
Get Comfortable
My favorite spot for studying as a child was laying on the floor, but what is your favorite spot as an adult?
Try out different spots for getting comfortable!
Is it at the desk, or a cafeteria?
In the woods or at the beach?
On a couch or in bed?
Does your home have different energies in different spots?
Where does creativity flow the best for you in your home?
What Coloring Does
Meditation for me comes through repetitive movement with my hands, I feel coloring does just that. It relaxes my mind.
When the mind relaxes connection with your heart opens up and it is easier to hear your own inner truths.
The answers you are looking for surface while coloring.
Even though The Four Phases of Creativity is not designed as a coloring book, try experiencing it through colors and make it your own with splashes of color here and there – Use an highlighter to help the messages you needed to hear pop up from the page. Color Mira with your favorite colors, so she feels like YOUR inner child to you. Add hearts, stars and exclamation marks where needed too!
SHOULD YOU CHOOSE COLORING… THEN
Choose Wisely – Which Pen to Use?
Test it out

When you get your hands on a book that you can't wait to read through—you want to dive deep, make notes and really understand its message, reflect on it and implement it in your own life—hold your horses for a minute or two and test your pens on paper first.
Take out your favorite coloring pens & pencils, markers and highlighters and give them a go on a page somewhere in the book where you don't get bothered if it bleeds through or makes a mess.
Here I tested out several pens, so you don't need to test all of them on your copy of the Four Phases of Creativity – You can find the test results below.
In the two pictures below you can see how I've tested out different coloring pencils, pens and highlighters to see how they feel on the paper and if they bleed through the page.
I'm happy how it turned out –
The paper quality is pretty good for making notes!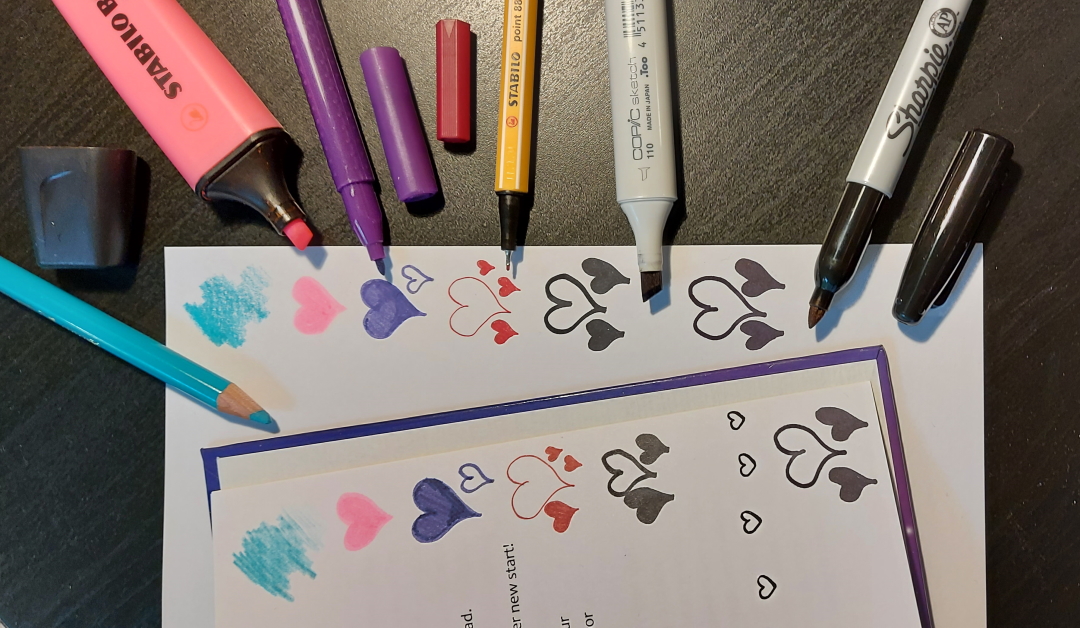 Does it Bleed Through?
Yes, there's a chance it will. But ONLY when using alcohol-based markers (like Sharpies and Copics). They bleed through strongly (see the picture below of the flipside of the page) – other highlighters and pens seem to work well and not bleed through.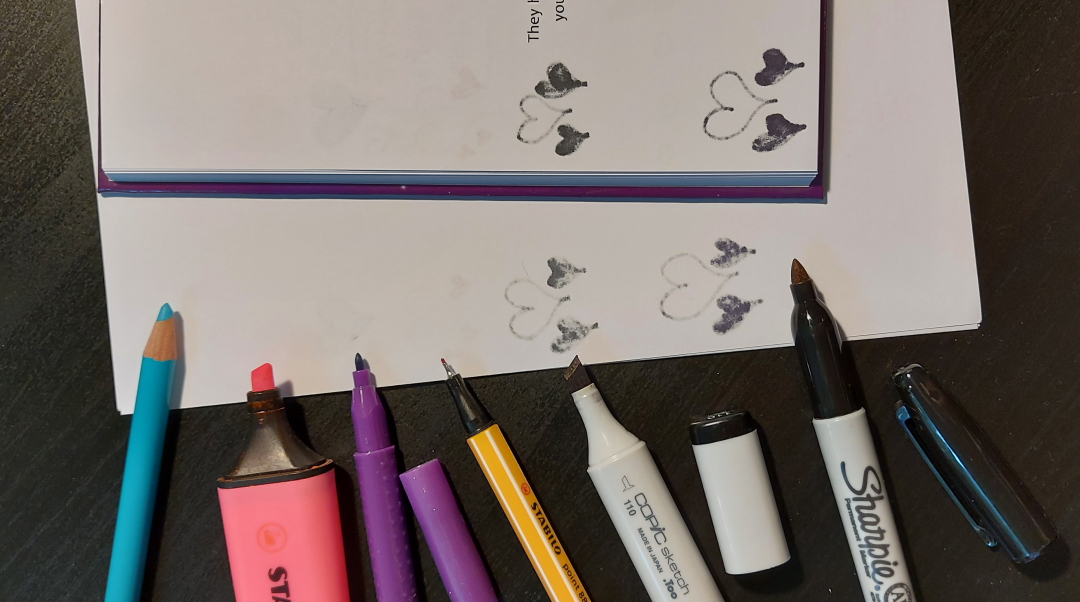 How Does it Feel on Paper?
Another thing you want to maybe test out is how it feels on the paper.
The paper felt good with most of the pens I tested them with.
The paper on the hard cover editions of The Four Phases of Creativity is coated, and even though that makes the pictures pop out beautifully, coloring pencils don't feel good on the paper. At least the ones I tested out with an oil-based core. They didn't blend nor stick well, but…
…That's not too bad,
because coloring pencils would probably make a mess anyway if you made notes with them. Unless the coloring pencils you happen to have are perfect—Give them a try and find out!
The Test Results

Coloring pencil – Faber-Castell Polychromos
Coloring pencils with an oil-based core are not recommended, because they don't blend nor stick well on the paper. They can also make a mess on the opposite page. You could use some other kind of coloring pencils though – Test them out first!
NOTE: If you use coloring pencils you may need to add blank papers between pages while you color to avoid colors making a mess on the spreads behind.

Highlighter – Stabilo Boss Original
Great! Doesn't bleed through nor see through.
Felt Tip Pen – Faber-Castell
Great, but starts to bleed through if you color the same spot for a while.
Fineliner – Stabilo Point 88
Great. Sees a little bit through.
May start bleeding through eventually, if you keep coloring the same spot.
Graphic Marker – Copic
Alcohol based markers are not recommended. Bleeds through strongly.
Permanent Marker – Sharpie
Alcohol based markers are not recommended. Bleeds through strongly.