In this series of blog posts I'll dive deeper into the world of my doodles. In this post we'll take a closer look at doodle #29 in MIRA – Glimpses of Life & Whispers from the Heart…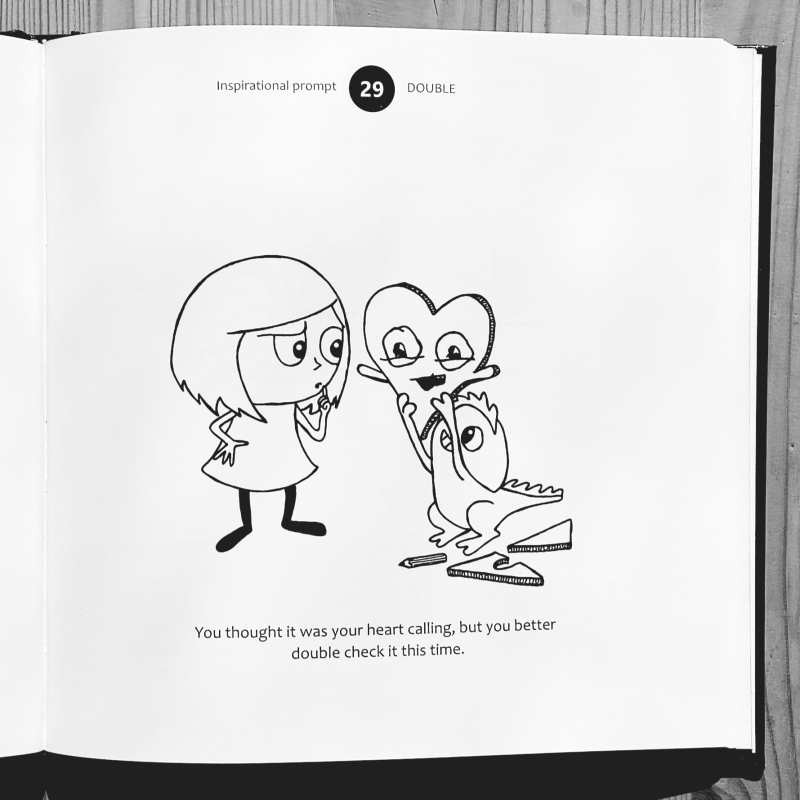 DOODLE NOTES
for times of transforming
Who do you follow from now on – ego or your heart?
—
An excerpt from the book:
INSPIRATIONAL PROMPT – DOUBLE
"You thought it was your heart calling,
but you better double check it this time."
—
elinap's musings on the doodle afterwards:
Mira is starting to doubt that it might not be her heart's whisper she hears… But her ego is hopeful that he still has a chance and will get away with it… The ego has put a lot of effort to misguide Mira into believing that this cardboard heart is the real deal, and croaks his instructions to Mira while hiding behind his creation.
You can distinguish your heart's whisper from the ego's voice from how it makes you feel – The ego leaves you wanting for more, reaching for something more, and making you feel like you are not enough, you don't have enough, you don't do enough (no matter how hard you try). Sometimes it's really hard to see this unless you take the detour with the ego for a while…
A whisper from the heart, even if it asks for you to stretch, grow and evolve (it can ask you to do some scary stuff too – Scary for the ego that is…), makes you feel relieved, it makes you feel lighter and even a bit happier. It comes with certainty – An inner Knowing.
Where can you practice this today?
Play with it! Start tiny,
and let your heart tell you where to go!
…Just double check it
before taking action.
You can now pre-order
MIRA – Glimpses of Life & Whispers from the Heart
from elinap shop
The doodles in MIRA were drawn daily in October 2018 & 2019, inspired by the one-word prompts of Jake Parker's INKTOBER challenge.