In this series of blog posts I'll dive deeper into the world of my doodles. In this post we'll take a closer look at doodle #34 (also as the cover picture) in MIRA – Glimpses of Life & Whispers from the Heart…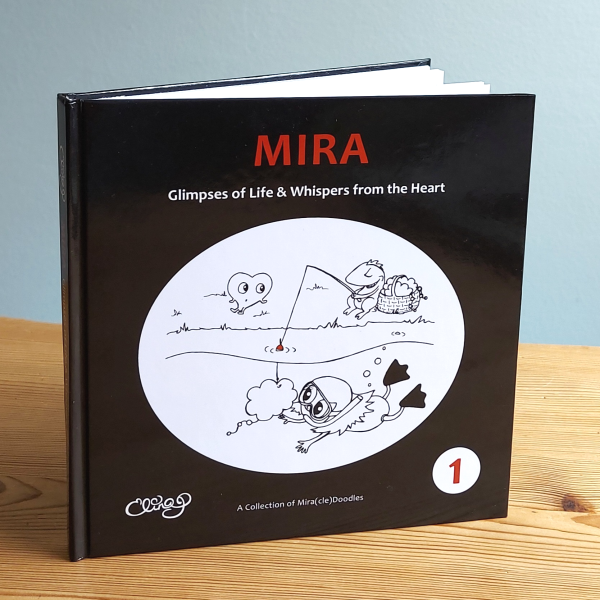 DOODLE NOTES
For doodle #34 (also the front cover)
—
An excerpt from the book:
INSPIRATIONAL PROMPT – BAIT
"See, this is how to do it.
I bet she can't resist this thought," the ego says.
—
elinap's musings on the doodle afterwards:
Here Mira wonders if that particular thought would give her peace. Her heart sits there peacefully, albeit looking a bit puzzled, because the ego is trying to give her advice. The heart doesn't need his advice, she knows that peace already is, and thoughts just come and go.
Years and years ago when I first drew Mira diving under water, I used water as a metaphor for spiraling downward, feeling the pressure of the water heavier the deeper she dived.
Back then I was studying the enneagram theory and found it fascinating! I need to draw what I want to learn so, I doodled more. Metaphorically, in the enneagram Levels of Development (Riso&Hudson) anything above the surface is where the heart speaks loudly, and you feel great. Below the surface is where life usually happens to most of us. We are reacting to the others, and to our thoughts. The closer to the surface, the easier it is to breathe, and we can make changes in our lives. The deeper we dive, the more we need help from the others to get back to the surface.
In the front cover doodle the ego is keeping Mira below the surface with various tempting thoughts to keep her busy.
But will Mira accept the thought the ego offers or
will she first check with her heart?
How would you continue this story?
You can now pre-order
MIRA – Glimpses of Life & Whispers from the Heart
from elinap shop
The doodles in MIRA were drawn daily in October 2018 & 2019, inspired by the one-word prompts of Jake Parker's INKTOBER challenge.