While editing you get all these great ideas for doodles that you wanted to include in the book, until… You realize that you wouldn't personally like to read a book with it…

Here's a story of one doodle that didn't make it in the book.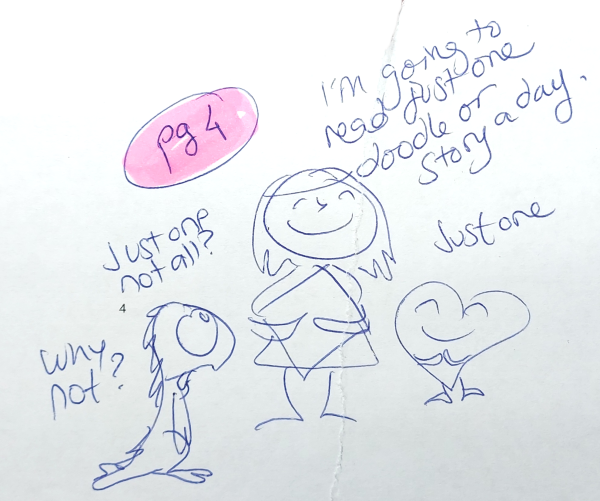 So, the grand idea behind this doodle was to inspire the reader to enjoy the doodles as a daily practice, like they were for me when I drew them.
The ego of course would like to devour them all, and move on to the next book…
But when you want to challenge the ego, and choose your own thoughts, that's when you need to find YOUR own pace with ideas and thoughts.
And there comes the problem with the illustration… If I was to suggest a reading pace, it wouldn't come from YOUR heart, from your own inner pace that is unique to all of us in how quickly ideas are thought through. Also some of the ideas in MIRA – Glimpses of Life & Whispers from the Heart are probably familiar to you, some of them you don't even need. And maybe one or two (hopefully more) are such that your life would be happier and lighter if you spent a bit more time with them.
But I'm not the one to say which ideas you'd need, or at what pace to read!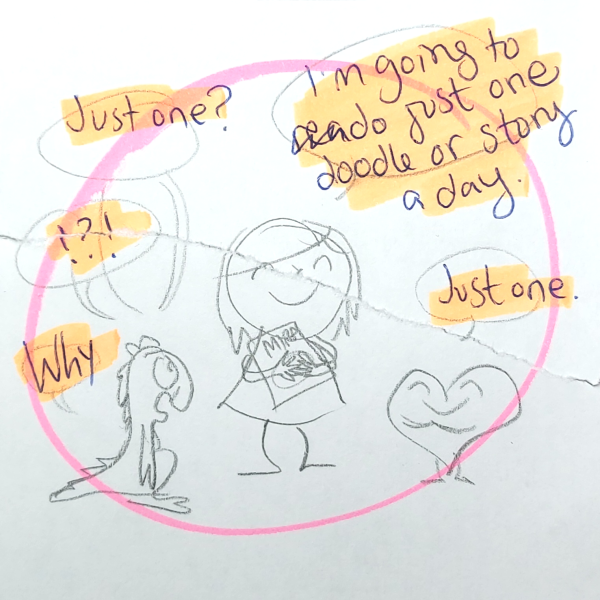 (I actually dug these pages out of the trash can when I realized they could be interesting to document as a step on the journey… And yes, I had ripped them in two when I threw them in trash, and tried to now tape them together—not very well though…)
I did spend some time with the doodle though… I did several sketches, and even doodled the thing ready and had the speech bubbles proofread and inked in… It was also included in the first proof copy.
And that's when it clicked…
While I was reading the proof copy I realized that there are not many things that irritate me while reading a book, but if the author makes suggestions on HOW to read, that does it for me.
So, this doodle was easily deleted.
It was one click and it was gone from the page! Yay!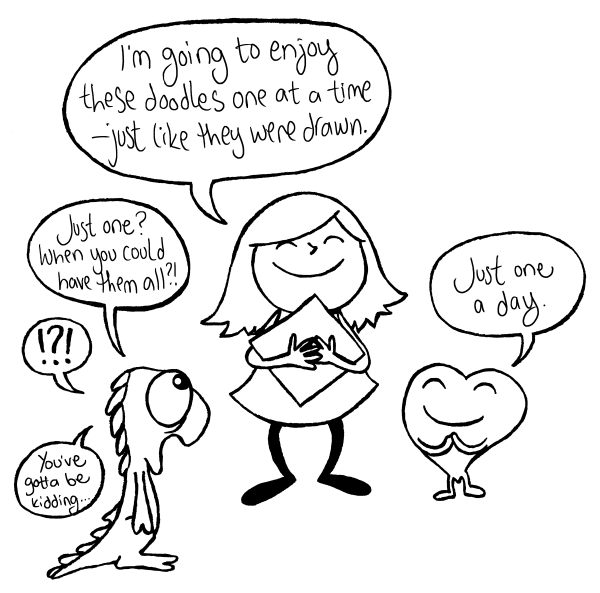 How about you—Would you have liked to have this doodle in the book?
Do you read books slowly, one page at a time, with pleasure?
You can now pre-order MIRA – Glimpses of Life & Whispers from the Heart from elinap shop, and read it at any pace you'd Love the best!